Online Submission Portal
The Vector Solar Portal is web-based and can be used on any computer. Submit new projects through the portal by entering the project information, selecting the type of work we need to do (structural and/or electrical), and uploading drawings and photos for the project. New projects automatically get set up in our systems for us to work on immediately. The portal has a project dashboard for you to quickly see the active projects and recently completed projects. Additional information or files can be submitted to us at any time through the portal. Send questions to us through the portal. Invite others within your company to use the portal. Download finished project files and shipping tracking information through the portal.
Please reach out to us on our Contact Us page if you are interested in learning more about the Vector process. If you are already a client and would like to use the portal; please reach out to your point-of-contact for the invite.
Dashboard:
The dashboard allows you to see projects that you recently setup and are awaiting to be transferred to our system, active projects we are working on, projects on hold where we are waiting for more information, and projects that were recently completed.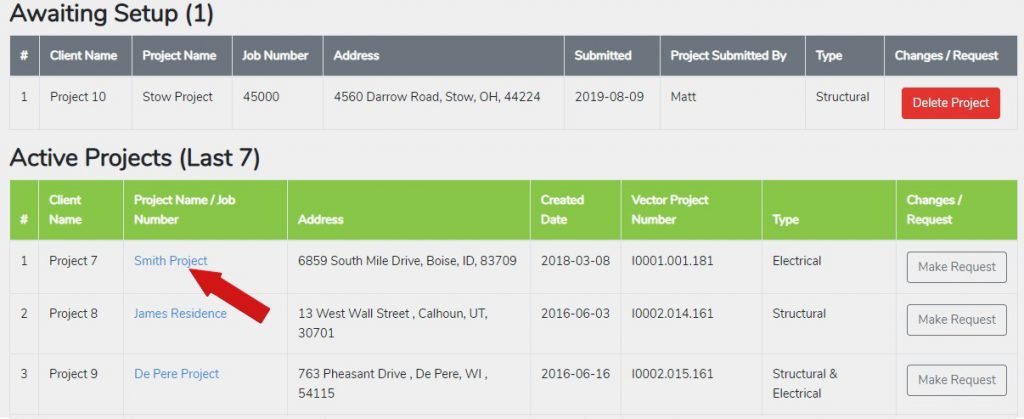 Project Lookup:
The project lookup will allow you to look up any job we have ever worked on. By having this option you will be able to use the portal to submit jurisdiction requests (or other requests) for projects older than what is shown on your dashboard.

Create a Project:
Create a project page is where you'll go to setup a new job. There are a few options for project type and certification type. This page will allow you to upload documents for the job and a brief description if needed.

Manage Users:
Manage users will allow you to invite additional coworkers to the portal. You have the option to set different access roles to each user and to be notified when one of the users has a project with notification from us or documents have been uploaded.